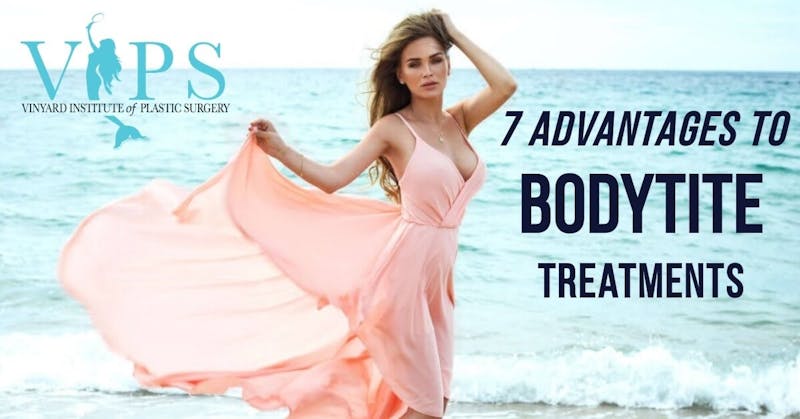 BodyTite uses radiofrequency (RF) energy to tighten up skin and dissolve fat, making it easier to remove via liposuction. This relatively new method is known as RFAL, or RF-Assisted Lipolysis. BodyTite can be performed either alone or together with liposuction. The liposuction surgery eliminates fat cells, while BodyTite's RF waves aid in tightening the skin.
Like the more popular liposuction, BodyTite only calls for small cuts, so it's considered a procedure, not a surgical treatment. The procedure is minimally invasive with no downtime. The ideal BodyTite candidate is someone with persistent fat on the neck, arms, upper legs, abdomen, butt, or knees.
What Areas Does BodyTite Treat?
Bat wings.
Love handles.
Abdominal fat.
Fatty knees and thighs.
Breasts can be lifted or tightened.
Bra line fat.
Male busts area.
Is BodyTite A Safe Treatment Option?
BodyTite is FDA-approved for use on the belly, arms, breast, knees, and thighs. It's officially considered risk-free. The surgeon utilizes a computer to regulate the temperature, lowering your risk of being burned by the thermal power.
Having your treatment performed by a Board Certified Plastic Surgeon is the most effective way to ensure that the procedure goes off without a hitch. So long as you choose an experienced professional and follow all of the surgeon's directions, BodyTite is an extremely safe and secure treatment.
What Takes Place During BodyTite Treatments?
While you wait for Dr. Vinyard or one of his nurse practitioners to attend to you, you'll sit comfortably in the VIPS office area. After being brought into the treatment area, you'll be able to sit or lie down in a comfortable position. The surgeon or nurse practitioner will apply an anesthetic gel to the area which you will be receiving treatment on. This gel not only minimizes the pain that you will experience, but prevents the radio frequency rays from harming your skin in the process. It might be slightly cool to the touch.
The BodyTite device is connected to a handpiece, which the surgeon will use to perform the treatment. The device utilizes two radio frequency transmitting probes, one is slid into your body - through a small incision, which the surgeon will make into your skin at the treatment location - and the other is kept on the outside of the skin. As Dr. Vinyard moves the RF handpiece, the device sends electrical currents between the two probes.
The probes produce heat through the use of these radio frequencies that generates collagen, dissolves fat cells, and triggers the skin to contract and tighten. The currents are directed at the undesirable fat specifically. It heats the fat cells, causing them to swell and harden, making them less difficult to eliminate.
Following the use of the RF waves, Dr. Vinyard will use a thin tube to suck out the excess, warmed fat. The benefit of this procedure is that the skin firming effect is considered better than anything else readily available on the market and approved by the FDA today. It takes 30-45 minutes to deal with each individual area. For those who want multiple areas to be treated, the procedure can take anywhere from 1 to 3 hours.
What Are The Pros And Cons Of BodyTite?
Advantages of BodyTite
BodyTite has been FDA-approved since 2016 for fat reducing procedures on the belly, arms, breast, knees, and thighs.

Benefits of the treatment: Minimal amounts of fat are dissolved and carefully eliminated. Droopy skin is tightened and the appearance of the area gains aesthetic improvement. The radio frequencies both lift and tighten the skin.
Improvements over conventional liposuction: BodyTite has less potential threats and less harmful side-effects. Coagulated small blood vessels decrease bleeding and wounding. No intrusive surgery is required.
Paired with a conventional liposuction surgery, BodyTite can be used to eliminate more significant excess fat for overweight patients.
Treatments can be as quick as half an hour for smaller treatment areas.
Treatments are performed with local anesthesia rather than general anesthesia.
Patients with fatty pockets and sagging skin are not good candidates for liposuction since the surgery leaves skin sagging and wrinkled. Before BodyTite, the only alternatives for individuals with loose skin were extremely intrusive procedures which involved serious potential danger and often resulted with unfavorable results such as large marks and a long recovery.
Disadvantages of BodyTite
BodyTite alone will not provide you dramatic body fat losses, only body contouring.
You'll already need to be close to your ideal weight to be an ideal candidate, not extremely overweight.
Many RealSelf members who ranked BodyTite as an "ineffective" treatment, underwent the procedure at the hands of physicians who were not Board-Certified Plastic Surgeons. If you want to achieve your ideal results, you need an expert surgeon.
How Quickly Will You See BodyTite Outcomes?
Some outcomes will be obvious immediately after your treatment, especially if fat was also eliminated by liposuction. Your final results will take longer to appear. Within 3 months, you'll see results - once the majority of the swelling has decreased. For up to a year, there will be gradually enhanced collagen growth with continuous tightening and an increasing glow.
Over time, BodyTite causes 25-45% contraction of tissue along with tightening. So long as you maintain your weight within 5 to 10 pounds, the results of your BodyTite treatment will last for years to come.
Just how much does BodyTite cost?
The typical cost of a BODYtite procedure is $5,000. Your exact price will depend on the size and number of the areas you want treated.
Loving Your BodyTite Results
The BodyTite system offers a virtually scarless, minimally intrusive alternative to conventional plastic surgery treatments, ensuring increased patient comfort. It results in the shrinkage of fat, with shorter treatment times, decreased bruising, and very little down-time, plus there are no lacerations or sutures.
When you consider how convenient the treatment is, the fact that most patients walk away with a 25-45% reduction of fat in the treated area is absolutely remarkable. If you are tired of dealing with your stubborn fat and ready to finally see it vanish, it's time to try BodyTite. Contact our office to schedule your free consultation with Dr. Vinyard today.