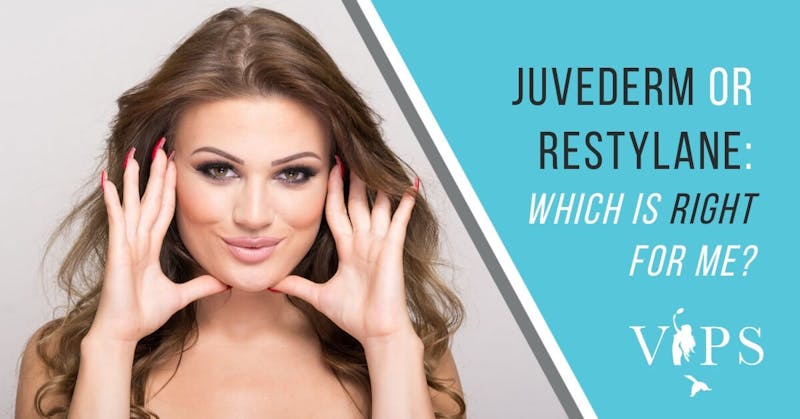 Every brand of facial fillers is slightly unique - addressing different issues and producing various results. Depending on your particular needs, your doctor will recommend a specific brand of injectibles, but it's always a good idea to do your own research ahead of time and be knowledgeable about which brand you're leaning toward. Today we'll be comparing the benefits of two different brands of facial fillers when it comes to addressing wrinkles and contouring cheeks: Juvederm and Restylane.
What Issues Do Facial Fillers Address?
Restylane (Medicis) and Juvederm (Allergan) are sterilized gel made from hyaluronic acid (HA) which are made in a laboratory. They have the best safety profile of all the fillers currently on the market and are FDA-approved for use in the nasolabial fold.
Restylane and Juvederm can be used to address the following areas:
Lines from the nose to the mouth (nasolabial layer).
Lines from the mouth to the chin (melomental fold).
Lines over the top lip.
Frown lines (finest incorporated with Botox Cosmetic).
In the lips for volume and definition.
To restore volume to cheekbones or cheeks.
In some situations, under the eyes.
Juvederm Versus Restylane for Addressing Wrinkles
When it comes to addressing fine lines, creases, and lighter wrinkles, these are the top four Juvederm and Restylane products:
Juvederm Vollure XC
The best product for moderate to serious face lines and wrinkles, Vollure works to give a subtle lift to the facial features, particularly in the lines around the nose and mouth. It has been proven to last up to 18 months, one of the longer enduring items on the marketplace to treat these specific areas.
Juvederm XC
Focused on the lower half of the face, Juvederm XC immediately smoothes the laugh lines around the mouth and lines around the nose. The XC injections last up to 12 months, a few months shorter than their Vollure alternative.
Restylane Refyne
Primarily utilized to help soften crow's feet around the eyes, smile lines (nasolabial folds), and the long, vertical lines around the chin (marionette lines) while restoring the natural motion of the face and its functions. Restylane Refyne is both flexible and effective, lasting up to 12 months.
Restylane Defyne
Restylane Defyne is used in the treatment of deep laugh lines and adds additional support to the skin. Like Refyne, Defyne is utilized to enable all-natural facial expressions and movement due to its increased flexibility compared to other fillers. Like Refyne, injections last up to 12 months.
Juvederm Versus Restylane for Raising and Contouring Cheeks
When it comes to addressing more heavy-set lines and wrinkles and providing maximum volume and lift, these two products are more aggressive.
Restylane Lyft (formerly referred to as Perlane):
Specifically formulated to add volume and shape to the cheek and midface area, in addition to correcting and smoothing smile lines or nasolabial folds. This product is a bit more hydrophilic, with results can last for up to 12 months.
Juvederm Voluma XC:
Designed to raise and contour the cheeks for those who have experienced volume and collagen loss due to aging. The longest lasting product, Voluma XC has been known to last for up to 2 years.
How Long Do Restylane and Juvederm Typically Last? How Often Will I Need Follow-Up Injections?
Depending on the area treated, your skin, and injection type, these fillers typically last 4 to 6 months. Juvederm Ultra and Perlane are thicker as will last longer, typically up to 6-9 months. All of these facial fillers call for upkeep between one and four times a year. Your surgeon will provide you an estimation on how often you will need follow-up treatments during your first consultation.
How Much Do Fillers Cost?
Restylane and Juvederm are typically sold (and priced) per syringe of the injection. For example, filling out the nasolabial folds (the lines from the nose to the mouth) will likely take a couple of syringes. Each syringe might range from $450 to $600. Perlane and Juvederm Ultra Plus (the thicker versions) usually set you back roughly $500 to $750 per syringe.
Are The Treatments Painful?
Most plastic surgeons use a topical anesthetic to make you comfortable during the injections. The cream is rubbed into your skin 30-40 minutes prior to the procedure. The lotion not only makes you significantly more comfortable, but reduces the chance of bruising.
What Will I Look Like Immediately After The Treatment?
Many patients are able to reapply their makeup and go right back to work following injections. If you follow the 'no aspirin' rule, you'll experience extremely little bruising following the procedure. However, some puffiness and moderate swelling for a day or two is perfectly normal. The first round of injections, specifically, are likely to bruise more than the follow-up treatments as your skin must adjust to the new injections.
Remember that swelling around the eyes and mouth can be difficult to cover with makeup, so it is best to avoid unnecessary social interaction for two days after the treatment, particularly after your very first injections. Stay home for a few days and you can show off your gorgeous, new face in just a few days' time.
To Avoid Swelling And Bruising, Stay Clear Of...
Aspirin, Exedrin, Advil, and Aleve for 1 week prior to and 2 days after the injections. Tylenol is fine!
Vitamin E (multivitamins are okay) and St. John's Wort for 2-3 days before or after.
Exercise (besides strolling) for 24 hours after the procedure.
How Long Does It Take Restylane and Juvederm To Work?
It can take a couple of days for the injections to "settle into" their final shape. They tend to look far better after a day or two. Many clients are stunned at how much better they look even immediately after their treatment, before the injections are even able to sink fully in.
What Will I Look Like A Few Days After The Treatment?
The injections typically settle suddenly within 2 to 10 days following the treatment. The wrinkles in your face will be eliminated and smoothed, making you appear younger with smoother, glowing skin. The raised skin from the fillers will last the expected 4 to 9 months, then begin to fade, hence the need for follow-up treatments.
Who Should NOT Utilize Dermal Fillers?
Do not make use of Juvederm or Restylane if you are expecting or breast feeding.
How Long Before A Big Event Should You Have Injections Done?
If it's the first time you've ever had fillers done, you should get your facial fillers done at least 3-4 weeks before the wedding, anniversary, vacation, or family event. This gives you 7-10 days to recoup from any bruising or swelling.
The ideal timeline would be:
Obtain the full treatment 3-4 weeks the event.
Evaluate whether you need any retouching 2 weeks prior.
Then, 1-2 weeks before the event, you will be assured that you look your finest.
Bear in mind that everyone gets a little anxious prior to these important occasions. Try not to allow that anxiousness to focus on the tiny issues with your face. You're beautiful just the way you are! Have patience and allow the injections to naturally settle in to your skin, ensuring a wrinkle-free, glorious glow on your big day!