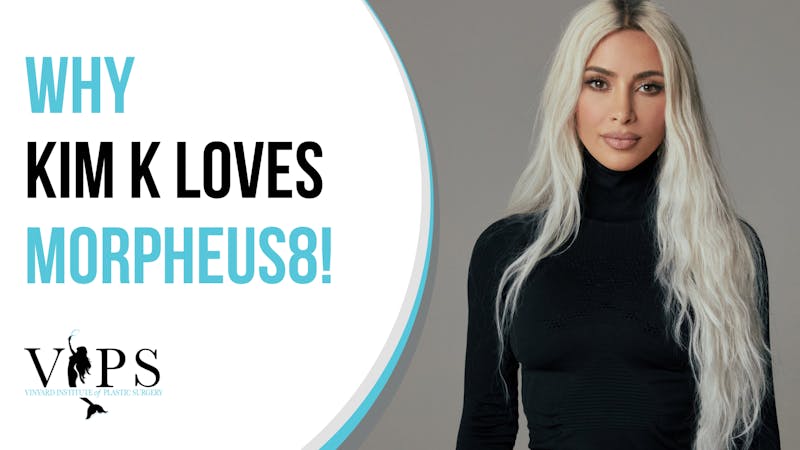 Aside from her unique style and captivating aura, we know you're wondering how Kim Kardashian manages to look so effortlessly youthful. We have her not-so-secret secret — Morpheus8! Aptly named after the Greek God who could shape and mold humanity's dreams, Morpheus8 has a revolutionary ability to contour and reshape the skin.
As you can imagine, Kim K has tried similar skin treatments, like Potenza, but has dubbed the Morpheus8 treatment her favorite treatment to address her skin concerns. Read on to find out why Morpheus8 is Kim's favorite noninvasive treatment and ours, too!
What Is the Morpheus8 Treatment?
Kim K referred to Morpheus8 as a skin laser treatment. However, it is a procedure that combines microneedling with radiofrequency (RF) energy to rejuvenate the skin by reducing pigmentation, wrinkles, stretch marks, and active acne.
InMode's Morpheus8 is a noninvasive procedure that uses microneedles to penetrate the deeper layers of the skin. The needles create micro-wounds that heal more rapidly and with better results than other skin rejuvenation techniques.
Other treatment modalities affect only the top layer of the dermis. But the combination of the RF energy and microneedling of Morpheus8 ensures that your tissue is treated 4 millimeters (with a 5-millimeter heating profile) to 7 millimeters (with an 8-millimeter profile) below the skin's surface — close to the adipose tissue — to achieve longer-lasting, impactful results. The heat energy from these RF waves creates a "shrink wrap" effect in a more profound treatment to reorganize the tissue's building blocks, unlike other microneedling treatments.
The microneedles utilize radiofrequency energy to provide subdermal adipose remodeling and create a contoured, more youthful look by stimulating collagen and elastin production.
Morpheus8's detailed approach to skin rejuvenation creates a sleeker, tighter appearance, which is what most patients, including Kim K, love about this treatment. But the benefits do not stop there — InMode has ensured that the Morpheus8 technology works on all skin tones and skin types.
What are the Benefits of a Morpheus8 Treatment Plan?
The Morpheus8 skin treatment does everything you could want in a non-surgical dermal renewing procedure — from reducing wrinkles and stretch marks to stimulating fresh elastin and collagen production, creating that highly sought-after "youthful glow."
It is one of the most versatile and effective skin treatments available, making it not only Kim K's favorite but ours at the Vinyard Institute of Plastic Surgery, as well!
These are a few of the many aesthetic benefits of Morpheus8:
No age limit to receive the treatment
Rebuild collagen to plump and contour the skin
Even out skin complexion
Soften and reduce acne scarring
Reduce stretch marks and skin laxity
Improve the appearance of scars (burns, surgical scars, acne scars)
Increase tissue firmness
Smooth out skin texture
Shrink enlarged pores
It's a no-brainer why Kim K speaks so highly of this treatment and its benefits!
Morpheus8 Helps Treat Various Body Areas!
Commonly known to treat the face to reduce the appearance of nasolabial folds and wrinkles and the neck to reduce the "turkey gobble," Morpheus8 does not stop there. You can use it on any body area needing collagen remodeling and skin tightening.
Kim K was treated on her stomach to enhance her figure by smoothing her skin's surface and deeper layers, as well as reducing fatty tissue. During your initial consultation, the Vinyard Institute of Plastic Surgery's expert team, led by Board-Certified Plastic Surgeon Dr. William J. Vinyard, MD, FACS, will consider your aesthetic goals and medical history to craft a unique treatment plan. Here are some of the many body areas that Morpheus8 treats:
Face and neck
Décolletage
Arms
Thighs
Buttocks
Knees (above and below)
Abdomen
Lower back
Morpheus8 has you covered from head to toe using fractionated RF energy to reach those deeper layers of the skin. For optimal results, you should pair this treatment with a healthy diet and exercise.
What Results Should I Expect After My Morpheus8 Treatment?
The intense rejuvenation of Morpheus8 is different from other topical treatments. The RF energy is delivered deep into the subdermal layers of the skin through tiny needles, so you may experience some mild redness for one to three days post-treatment.
You will benefit from the deep microneedling as there is less damage to the skin surface, resulting in minimal downtime — so you can get back to your daily routine in no time!
We recommend you have one to three sessions about four to six weeks apart to achieve your desired aesthetic result. Regardless of how many treatments you do, you will notice some minor differences immediately. After four to six weeks, you will genuinely see firmer, fuller, tighter, and brighter skin, giving you a more youthful appearance!
What is the Morpheus8 Recovery Time?
Recovery is straightforward and seamless with Morpheus8. Patient downtime is minimal, as Morpheus8 is a non-surgical treatment. You may experience some skin redness in the treated area, which will subside in one to three days.
Safeguarding your skin post-procedure will improve and prolong your optimal results. Do not rub or apply anything to the treated area for at least 12 hours after the treatment. Avoid direct sun exposure during the first few days. It is also advised to apply a broad-spectrum sunscreen to the treated skin. As a precaution, we recommend a Procedure 360 System by SkinMedica, which we sell at our office, to enhance your results!
After one or two days, you can begin to apply makeup and other skin care products to the area. Within a week, the appearance of any micro lesions will have disappeared, and you will be fully healed!
Will My Morpheus8 Procedure Be Painful?
The pain and discomfort levels caused by Morpheus8 are tolerable and vary from patient to patient. A topical numbing cream or laughing gas is used to mitigate any discomfort caused by the microneedles. This approach ensures that the treatment is tolerable at the full range of energy settings.
The treatment comes with minimal side effects, although some patients experience grid marks on the skin resulting from the Morpheus8 machine, which gradually dissipates. However, they do not cause any extra discomfort. The body heals quickly if well-hydrated and rested.
Dr. Vinyard and his team of experts will always endeavor to make your treatment as comfortable and seamless as possible. Kim K mentioned that any discomfort she experienced was totally worth the results!
Start Your Morpheus8 Journey at VIPS!
Contact us to schedule a personal consultation, or call (772) 362-3357 to find out the next steps in your Morpheus8 journey! Our office at 291 NW Peacock Blvd, Suite 103, Port St. Lucie, FL 34986, proudly serves the South Florida area! We also invite you to check out our blog page, Facebook, and Instagram to learn more about the treatment options available at our office!