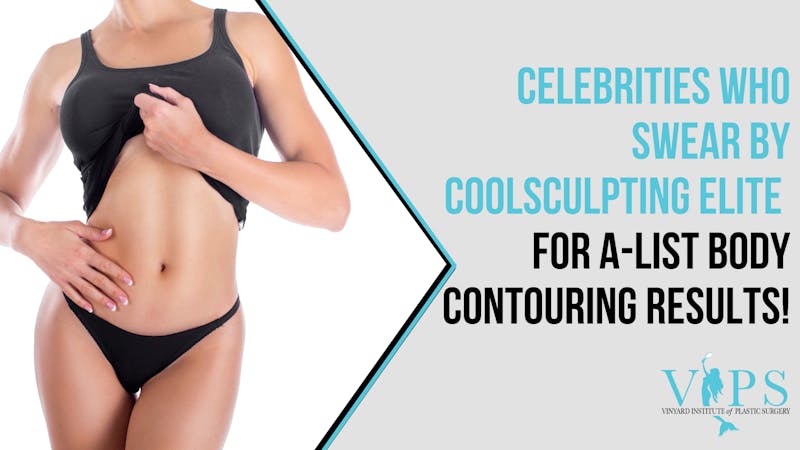 If you've ever scrolled through your Instagram feed and wondered just how Hollywood's hottest stars maintain their sculpted silhouettes, you're not alone! Many A-listers have a now-not-so-secret weapon in their arsenal: CoolSculpting Elite!
This non-invasive body contouring treatment has made waves across Beverly Hills and beyond for its ability to freeze away stubborn fat pockets that just wouldn't budge!
Say goodbye to invasive procedures and hello to a new era of body sculpting that's as cool as it sounds! But don't just take our word for it; let's dive in to see which celebrities are raving about their CoolSculpting Elite results and how you can benefit from it, too!
What is CoolSculpting Elite and How is It Revolutionizing Body Contouring?
CoolSculpting Elite is the latest innovation in non-invasive body contouring, aiming to sculpt your body's natural curves by targeting unwanted fat cells.
Cryolipolysis, often referred to as fat freezing, tackles the body fat that strenuous exercise and diet often can't. This fat reduction technology freezes fat cells, causing them to break down and gradually leave the body through the lymphatic system.
CoolSculpting Elite offers an ideal solution to those who have reached their goal weight but are struggling with unwanted bulges or stubborn fat. The treatment not only helps in sculpting the body but also complements a healthy lifestyle, aiding in the maintenance of a healthy weight. This is a major leap from traditional sculpting treatments, which often required multiple treatments and extensive time commitments!
What Makes CoolSculpting Elite Different From Traditional CoolSculpting?
While both the CoolSculpting Legacy and the Elite version leverage the same fat freezing principle, there are serious upgrades to the CoolSculpting Elite device and technology that make it a more desirable option!
The Elite version features a new C-cup-shaped applicator, designed to provide more tissue contact for better suction and more targeted cooling. This not only means enhanced fat removal but also fewer treatment sessions for patients!
CoolSculpting Elite can treat two areas at once with one machine, making the treatment process even more efficient. Imagine freezing unwanted fat cells in your chin and upper arms simultaneously!
Celebrities Who Swear by CoolSculpting Elite
From renowned sports personalities to Hollywood's elite, CoolSculpting Elite is winning hearts (and bodies!) across the celebrity world. Film and TV star Jennifer Aniston is no stranger to the wonders of this innovative treatment, with rumors suggesting that it's her secret to maintaining her well-known figure. Child star Lindsay Lohan has also reportedly indulged in the fat freezing benefits of CoolSculpting Elite, as have esteemed TV icons Debra Messing and Kristin Davis.
Not limited to the ladies, successful athletes like figure skater Johnny Weir and golfer Ian Poulter have also reportedly jumped on the CoolSculpting Elite bandwagon, keen to keep in top physical shape. Reality TV stars are also in on the action: Sonja Morgan, Khloé Kardashian, and Kris Jenner are all rumored to be fans. Model and actress Molly Sims has openly expressed her fondness for CoolSculpting Elite, endorsing the treatment's ability to help her maintain her toned physique!
Why are Celebrities Choosing CoolSculpting Elite for Body Contouring?
Celebrities have to maintain their camera-ready figures, and CoolSculpting Elite is the trusted treatment many are turning to for achieving that picture-perfect look.
What sets CoolSculpting Elite apart is its FDA clearance to treat nine distinct areas of the body:
Abdomen (upper, lower, and central)

Submental "double chin"

Above the knee

Inner and outer thighs

Lower back/Love handles

Mid back/bra line

Under the buttocks (aka "banana roll")

Upper arms

Waist
How Does CoolSculpting Elite Provide A-list Body Contouring Results?
CoolSculpting Elite's cryolipolysis technology typically eradicates 25%-30% of fat cells in the targeted area, which are then naturally eliminated by the body through the lymphatic system, revealing a more defined contour over a period of a few weeks.
This gradual yet efficient process means celebrities can achieve noticeable results with fewer treatments. For instance, a busy athlete like Ian Poulter can continue his day-to-day plan without any downtime from a 35-minute CoolSculpting Elite session, all while gradually sculpting his body!
How Many CoolSculpting Treatments Do Celebrities Typically Undergo?
The number of CoolSculpting treatments a celebrity might choose varies depending on personal goals, body composition, and the specific area being treated.
A typical session lasts 35-45 minutes, and most patients observe visible results after one treatment. Board-Certified Plastic Surgeon Dr. William J. Vinyard, MD, FACS, and his expert team often recommend at least two treatment sessions for optimal results.
CoolSculpting Elite vs. Other Body Contouring Procedures: What's the Difference?
In the diverse world of body contouring, it can be a challenge to discern which treatment will best suit your needs. While options like Emsculpt and Sculpsure have their merits, CoolSculpting Elite consistently stands out as a top choice for many patients!
Emsculpt primarily focuses on muscle definition and does not directly target fat cells, which can leave some fat bulges untouched.
Sculpsure uses laser technology to heat fat cells beneath the skin's surface, promoting fat loss. While this approach can be effective, some patients find the heat uncomfortable and it does not offer the same level of precision that CoolSculpting Elite does when targeting fat cells.
In terms of final results, many patients have seen a noticeable difference in their body contour after just a few CoolSculpting Elite sessions, achieving their desired results in a shorter time frame compared to other methods!
Ultimately, while all body contouring treatments have their unique advantages, CoolSculpting Elite's ability to directly target and eliminate fat cells, coupled with its precision and comfort, makes it a standout choice for comprehensive body contouring.
What to Expect During Your CoolSculpting Elite Session
CoolSculpting Elite is straightforward, comfortable, and designed to help you relax as you lose unwanted body fat!
During your initial consultation, we will review your medical history to ensure you're an ideal candidate for the treatment. Once that's confirmed, we will design a customized treatment plan for you!
On the day of your session, you'll settle comfortably in the treatment room. A gel pad will be applied to protect your skin, followed by the CoolSculpting Elite applicator on the target areas. You might feel a slight sucking sensation as the applicator adheres to your body — this is completely normal!
The CoolSculpting Elite device will then begin to freeze fat cells in the target area. Each treatment session lasts between 35 and 75 minutes, depending on the size of the area being treated. At the end of the session, you can then return to your daily routine immediately — no downtime required!
With CoolSculpting Elite, achieving your dream body contour just got a whole lot cooler!

Ready to Achieve A-list Body Contouring Results With CoolSculpting Elite? Get Started Today!
ontact us to schedule a consultation with Dr. Vinyard, or call us at (772) 362-3357 to discover the next steps in your CoolSculpting Elite journey! Our office at 291 NW Peacock Blvd, Suite 103, Port St. Lucie, FL 34986, proudly serves the South Florida area! We also invite you to check out our blog page, Facebook, and Instagram to learn more about the treatment options available at our office.
References
Body composition | UC Davis Health

— Accessed 18 May 2023.

CoolSculpting ELITE in Port Saint Lucie, FL | VIPS

— Accessed 18 May 2023.

CoolSculpting vs. Emsculpt: Why We Prefer CoolSculpting! | VIPS Resources

— Accessed 18 May 2023.

CoolSculpting Elite vs Sculpsure vs Kybella vs CoolSculpting Legacy | VIPS Resources

— Accessed 18 May 2023.

Debra Messing Has Gotten Fat Frozen Off and She's Not Ashamed to Admit It | Good Housekeeping

— Accessed 18 May 2023.

How CoolSculpting Works | CoolSculpting

— Accessed 18 May 2023.

Introducing CoolSculpting® Elite – Why Is Coolsculpting® Elite Superior To The Original CoolSculpting®? | VIPS Resources

— Accessed 18 May 2023.

Jennifer Aniston to Megan Fox, Celebs Opt for CoolSculpting | Medium.com

— Accessed 18 May 2023.

Lindsay Lohan – CoolSculpting Treatment | The Cosmetic Skin Clinic

— Accessed 18 May 2023.